Junk Your Car for Cash Colorado
Money for Junk Cars (Free Towing)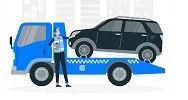 Get money for your junk car today. SellMyCarColorado will give you cash and tow it away for free. We make the process simple and easy. Contact us today and we will have your car removed ASAP.
Call (720-722-0212) or fill out the form.
Get a quote.
Get your cash or check.
We tow away your car.
Don't let that old car be an eyesore on your property. It's time to contact SellMyCarColorado and take care of that task on your list.
---
We Come to You and Pay You
We are a Colorado local company and will come to you to pick up your junk car. Whether your car runs or has been sitting on the driveway for some time, our professionals will bring a tow truck and take it away.
Most importantly, we will cut you a check or pay you cash on the spot. Simply give us a call and get rid of your car today. It's time to get rid of that car and free up some space!
Our dealership is local in Arvada, CO and we are fully licensed in the state of Colorado. By working with us, you work with a local, reputable dealership that comes to you and ensures that work is done correctly.
We come to you no matter where you are in the Denver metropolitan area.
Fast and Easy Way to Junk Your Car
When you call SellMyCarColorado to junk your car for cash, we make it fast, easy, and simple. Simply, follow the steps above and we will quote you top dollar for your vehicle.
We are a Colorado licensed dealership that will ensure your car is taken care of according to Colorado law. Finally, we make the process easy and simple for you to get rid of your car and get a cash payout.